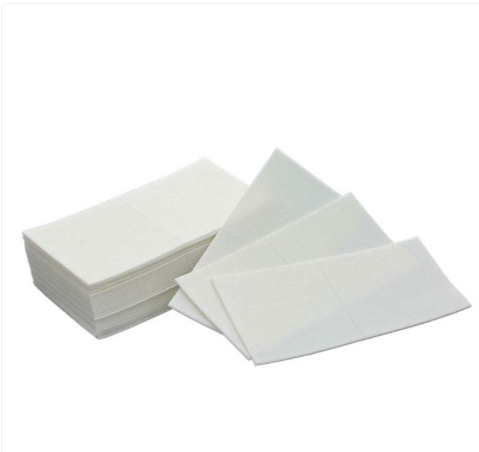 Description

Sizing

Contents
POLISHING CLOTHS
Rub on metal until your desired finish is achieved. Can be used until it's literally in tatters and fully black. Never wash as they have the compounds built right into them. 
Each colour cloth has different mirco-abrasives and should be used accordingly:
WHITE - Brass & Sterling Silver
This is great to use if you have heavy build up of tarnish and it needs a deep clean. Follow with the yellow polishing cloth until you reach your desired finish.
Single - 2" x 2"
Double - Two of 2" x 2" pads
YELLOW - Brass & Sterling Silver
This cloth has mirco-abrasives built in to help keep your pieces looking great. A perfect option for maintaining your desired finish. 
Small -  3.25" x 2.5"
Full - 7.5" x 5"
BLUE - Gold & Gold-filled
The micro-abrasives that are built into this cloth are powerful enough to clean and polish your gold items without being too harsh. Wipe your gold down with this cloth to maintain its finish. 
Small -  3.25" x 2.5"
Full - 7.5" x 5"
Single - 2" x 2"
Double - Two of 2" x 2" pads
You should feel confident that each piece has been handcrafted with carefully chosen sustainable materials including recycled metals and authentic and ethically sourced stones. Your purchase will be thoughtfully packaged in all reusable, recycleable and biodegradable materials. Right down to the tape & labels.
Shipping
Shipping Options
We offer pick up at our location, lettermail and tracked & insured shipping to Canada & the US.
Turnaround times are typically 1-6 weeks depending on the order. For current timeline click here or email hello@vanderzee.ca
Order tracking
If you have chosen tracked shipping it will automatically come with insurance. An email will be sent to you with the carrier and tracking information (check your junk mail). Delivery time options available at checkout.
Lettermail option is untracked & uninsured with a delivery time of 1-4 weeks from time of shipment.
Get in touch
For all inquiries, concerns or issues please email hello@vanderzee.ca or click on the Chat with us! icon on the bottom right. We will get back to you within 48/hrs.